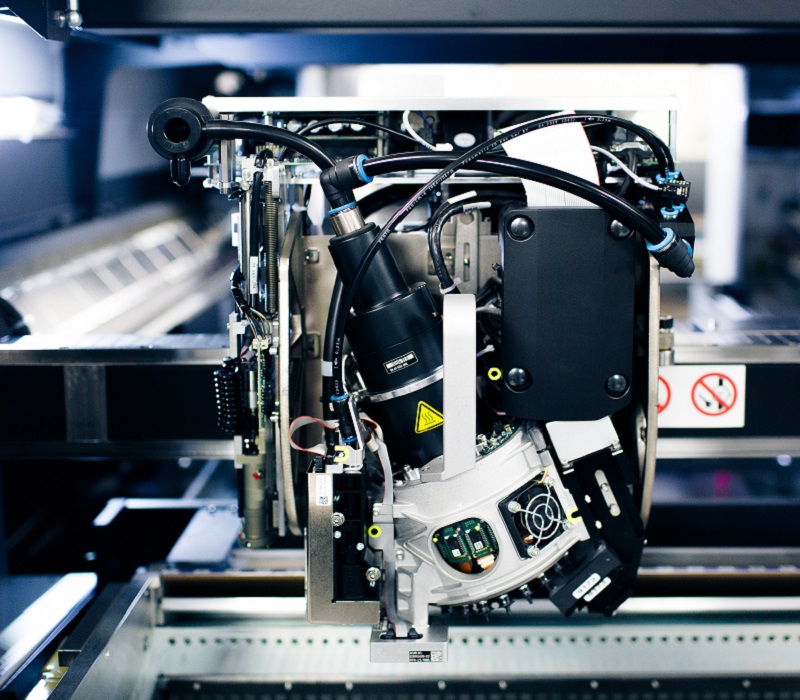 Now, electronics are used in almost each business field. We meet them also in our everyday life. Electronics help us automate work, processes, management, ensure safety and help us develop so the quality of their manufacture is very important. In order to guarantee that the final product meets the highest expectations there are required numerous changes and investments in the development of technology which can ensure high repeatability and accuracy during electronics manufacturing. Printor Electronic Manufacturing is a partner and supplier of EMS services which are comprehensive and ensure the highest quality standards and always the timely realisation.
PCB manufacturing
Printor offers, directly in Poland, on site in the company, PCB (i.e. printed circuit board) manufacturing – this is the first element of a comprehensive offer which includes all processes necessary to create a final product compliant with expected quality. PCBs are manufactured on site in accordance with IPC-A-600 standards and requirements so you gain assurance and guarantee of quality product. The offer contains, inter alia, such services as: CAD preparation, one-, two or multi-layer boards, cutting, routing and many others. Of course, all manufactured boards are electrically tested to ensure that the product is of good quality and can pass through the further stages of comprehensive offer.
SMT automatic assembly
SMT assembly is one of the most important elements of comprehensive electronics manufacturing service. With three assembly lines, Printor is able to ensure high series production based on modern machinery, such as ASM – DEK NeoHorizon 03 iX, ASM – ProcessExpert, ASM – SIPLACE SX1 (CP20P) + ASM – SIPLACE SX1 (CPP). However, OMRON – VT-S530 is used to 3D AOI control. Due to the developed feet of machines you gain complete repeatability with maximum precision, necessary to create a quality product. The IPC output of such a line is up to 48500 CPH
Manual assemblies (THT, mechanical assembly)
As it is known, not every element can be soldered automatically on PCBs therefore Printor employs several dozen specialists in manual assembly. Regular trainings and maintenance of IPC-A-610 standards affect the timeliness quality of final product. THT assembly includes the following scope of works:
preparation of elements,
setting of elements,
assembly on soldering wave,
treatment of cables.
We also have equipment for selective soldering according to RoHS and Pb technology.
Supply management
As part of a comprehensive offer, in order to address the Customers' needs, Printor created a system which meets the expectations of ordering parties, saves their time, reduces costs and help us improve the order process of electronics manufacturing. Supply management includes purchase of elements, traceability, warehouse management and just-in-time supplies. All these services are provided by Printor so the manufacturing continuity and the Customer's liquidity are maintained. Each of these services is tailored to the Customer's individual needs therefore the Customer is certain that everything will be made just the way it is expected.
Testing
Tests are a key element of electronics manufacturing. Due to them it is known if a created product meets all expectations, i.e. if it is a quality product, without defects, operates according to the Customer's design and assumptions. For this purpose, a number of tests carried out by Printor are a guarantee of reliability of the product received by the Customer. The scope of offered tests includes:
electric tests of printed circuit boards
AOI (Automated Optical Inspection)
ion cleanliness testing
ICT (In Circuit Test)
functional tests
Additional services
A comprehensive service contains also a number of additional services because the standard scope is not always sufficient. Such customisation makes Printor able to support its Customers and offer services, exceeding the offered scope. They include such additional services as: programming, covering of ready products with varnishes or protecting filling compounds, final assembly or consultancy of a team of qualified technologist.
If you want to take advantage of comprehensive offer it is sufficient to fill in the contact form: https://printor.pl/en/request/
Watch the video – learn about us how we work and what we can do for you?