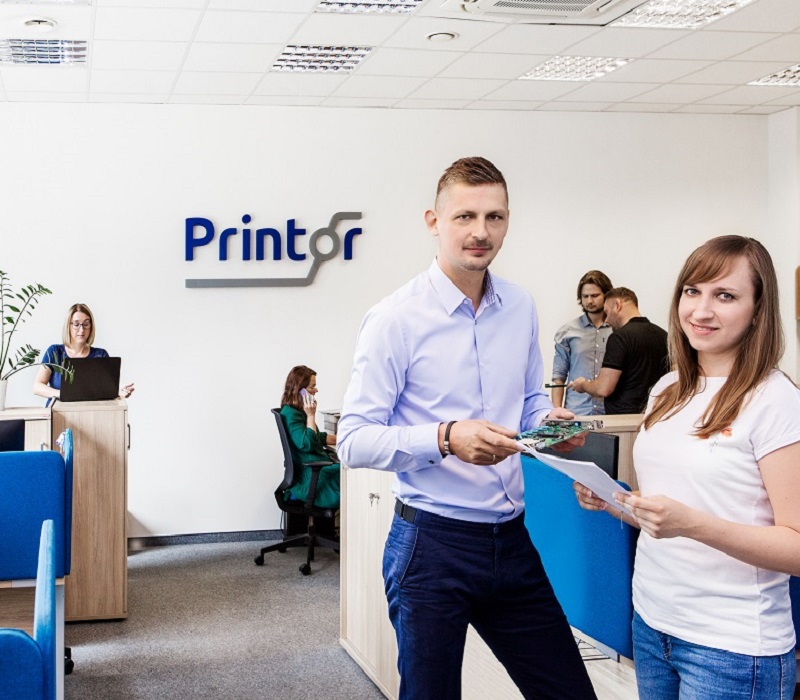 It is not an easy task to choose a partner to provide you with electronic manufacturing services because the quality of your cooperation directly affects your business.
Why is that?
Because providers of electronic manufacturing services have a direct impact on the production process and operations of your company. Assuming that your provider has the right machinery and production technologies, customer service will be one of the most important criteria in the assessment of your cooperation. These are usually "invisible" processes that consume the time and resources of our company. Therefore, what should you think about when choosing your partner for electronic manufacturing services if you want to receive high-quality customer service? We'll give you a couple of suggestions on what to look for.
Partner-like relations
Electronic manufacturing services are about more than just a high-quality product. Customer support and the approach to cooperation matter as well. The key to the satisfaction of both parties is to maintain partner-like relations between the companies. This way, the client can expect to receive support and advice from the supplier, meaning that the provider will not just send you the right files and documents required to set up production but will also offer consultations to find the solutions that will prove to be the best in the long run.
Understanding the business and the needs of the client
We work with many different types of companies because electronic devices are used in many sectors of the industry and many different individual solutions. Electronic systems are omnipresent in our life, and we can confidently say that, without them, we would not have been able to develop so fast in areas such as security, communications, entertainment, medicine, transport, etc. That is why it is so important to get to know the characteristic features of the particular sector, specific requirements and the nuances that significantly affect the efficiency of our cooperation and its final outcome. Unfortunately, employing the "one size fits all" approach when working with different clients may work only at a very specific stage of the cooperation, when we have already completed several projects for the particular client, and that is why we do our best to avoid falling into a routine, and we systematically analyse various aspects of our cooperation. We place great emphasis on discussions and meetings with the client (even though they are mostly held online at the moment), something we refer to as the "briefing", because we want to ask a lot of business-related questions regarding the particular project, plans for the future, demand and specific requirements. Our clients greatly appreciate the way we initiate our cooperation, i.e., the briefing, because we help them organise and communicate the key parameters, requirements and information required to proceed to the nest stage, i.e., quoting. This initial input from the Client is quite critical because it will be used to prepare the quote and determine the extent of the cooperation. The quality of our quotation is directly proportionate to the skill with which we handle the initial stage of the cooperation, i.e., the initial briefing of the Client, and it would suffer greatly if we did not obtain all the information we need or might use at the very beginning.
Customer support by a team of expert providers of electronic manufacturing services
Our specialists from various areas, e.g., process engineers, quality specialists or leaders in the individual production areas (SMT assembly, THT assembly, PCB manufacturing and electronic tests) are always involved in our projects, and they help us find the right solutions. Our team is our greatest asset, and teamwork is the best way of solving any problem quickly and effectively to find the right solution. This approach certainly benefits our clients and improves the overall satisfaction with our cooperation.
Transparency – a prerequisite for trust in business relations
We know the significance of trust, but we also understand that trust-building is an ongoing process that lets us make sure we are making the right decision. That is why we frequently recommend new Clients to meet at the premises of our company and conduct an audit. We will gladly present our technological capabilities and introduce our team and the individual departments that are going to be involved in the Client's project. Such meetings are very valuable to us, and they present an excellent opportunity to get to know our Client.
Quick and open communication at every stage of our cooperation
Effective cooperation inside the company and between the employees is the key to good communication with the Clients. We work in a specialised industry, and frequently require the advice and support of our own employees to provide the right information and answers to our Clients. Our organisation is efficient, and that is why our Clients can receive professional customer service at every stage of our cooperation. All requests, issues and enquiries are handled by our experienced customer specialists as soon as possible, usually within 24 hours from the request.
Are you looking for an electronics provider, an EMS Partner, and want to send an inquiry regarding electronic manufacturing services?
Contact us! We are at your disposal from Monday to Friday between 8:00 AM and 4:00 PM. Just pick your preferred form of contact – e-mail, form, phone or social media.