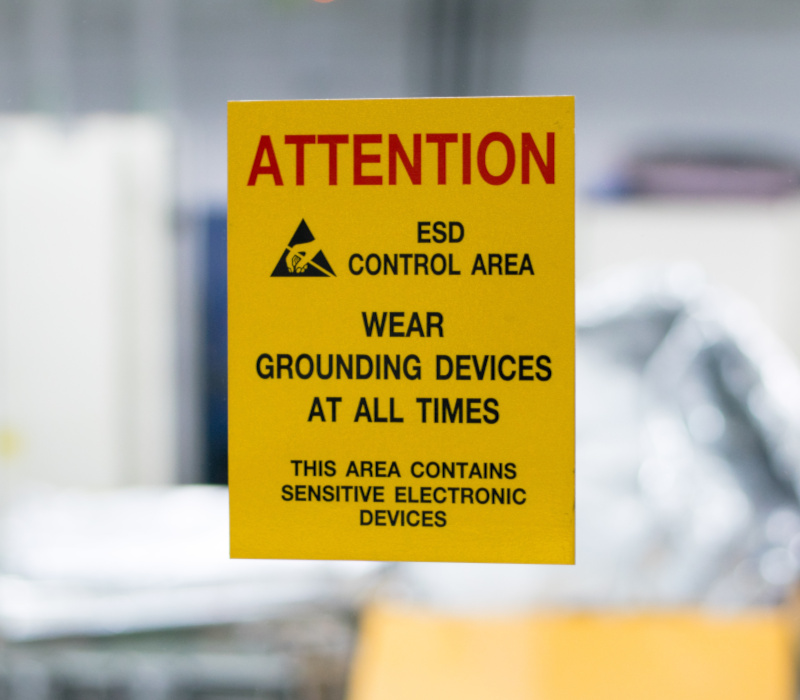 ESD safety and electronics manufacturing services
Electronics manufacturing services (EMS) require compliance with many procedures and standards as well as systematic quality control. It is also important to provide protection against electrostatic discharge (ESD). Why? Because electrostatic discharge is an almost unnoticeable phenomenon, seemingly harmless to people, that can damage devices during production and transport. That is why every professional manufacturer of electronic products has to not only accordingly arrange their production area but also protect the components during transport.
What is ESD protection?
ESD stands for electrostatic discharge, which occurs when current flows for a short time between objects with different electric potentials. ESD also refers to anti-static protection. The symbol appears on devices that could be damaged by the discharge and that, consequently, require special conditions during production and transport. E.g., items with the ESD marking should be transported in special ESD containers to minimise the risk of discharge.
What is an ESD event?
The discharge referred to as an ESD event is a short-term, sudden exchange of electric charge between two objects. It occurs as a result of direct contact between objects with different electric potentials through electrification or damage to the electrical insulator. If the potential differences are large, ESD events can occur even when the objects do not touch but are sufficiently close to each other. This is when flashover occurs. The discharge may cause damage to components regardless of how strong it is.
Risks for the production of electronic components due to ESD
ESD presents a certain difficulty for providers of electronics manufacturing services because electrostatic charge can accumulate on PCBs at every stage of production. The risk is caused both by the production line – its moving parts are potential sources of discharge – and by the employees who operate it – the human body has a tendency to accumulate charge. Also, the more complex the contracted PCBA, the more sensitive it will be to ESD events. Every such event is regarded as dangerous because it carries a risk of major faults. Many types of damage can be noticed immediately, but some damage can become latent defects. Such defects cannot be identified immediately, but they affect the life of the equipment or cause it to malfunction.
ESD protection in electronics manufacturing – the golden rules
A manufacturer of printed circuits should ensure adequate ESD protection. PCBs must be printed in appropriate conditions that ensure anti-static protection.
What are the golden rules of ESD protection?
Designation and marking of ESD protected areas – printed circuit boards must be located in anti-static protection areas where the risk of ESD events is minimised.
Protection in areas without specific ESD protection, e.g., warehouse, packaging, shipment – components sensitive to electrostatic discharge should be delivered in protective packaging, just like during handling operations inside the production plant. The devices should be carried in, for instance, boxes that dissipate electrostatic charge.
Workstation protection – no insulating plastics, e.g., food containers, mugs, documents wrapped in plastic film, etc., should be kept at workstations located in ESD-protected areas.
Humidity monitoring and ionisers – the relative humidity level should be monitored and controlled in ESD-protected areas at all times. When humidity drops below 40 percent, the electric charge will have a stronger tendency to accumulate on the surface of the insulators. It is also sometimes recommended to use ionisers that neutralise electrostatic charge.
Regular training and inspections concerning compliance with ESD protection rules – the ESD protection system must be monitored at all times to reduce the risk of departures from the recommendations. Also, it is necessary to carry out regular training for employees who have contact with components particularly sensitive to discharge.
Cooperation with suppliers and business partners – suppliers and business partners should receive clear guidelines to follow so that they do not interrupt the continuity of ESD protection at a plant that makes printed circuit boards and installs electronic components.
Summary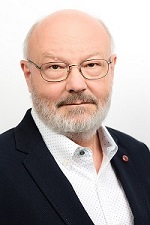 "We know that ESD protection is one of the major challenges faced by providers of electronics manufacturing services. A single mistake can have severe consequences affecting the entire production process. Since Printor always emphasises the highest quality of the PCBs we make, we have designated at our plant an area conforming to the requirements of the IEC 61340 standard, which regulates the handling of ESD-sensitive electronic items, components and devices. We comply with the golden rules of ESD protection, including regular training in the relevant standards and multi-stage quality control for the items we make to make sure our clients receive only the best products" – summarises Piotr Czekalski, Quality Assurance Manager, Technical Director.
---
We are looking for manufacturers who need a partner to provide electronics manufacturing services.
smt assembly
https://printor.pl/en/offer/smt-assembly/
comprehensive electronics manufacturing services – manufacture of pcbs, smt assembly, tht assembly, tests and additional services
https://printor.pl/en/offer/comprehensive-offer/
Are you looking for an EMS Partner? We invite you to contact us directly.
We are happy to talk about your needs. Our experts are at your disposal.
Anna Kucharczyk
Sales Manager
+48 664 489 324
Do you prefer to send a message? Contact us via the available form.