Testing
As part of the production process, we carry out a number of tests to detect potential weak points of the system. We make sure that the products that leave our factory are of high quality, which is why testing takes a significant place at all stages of the order.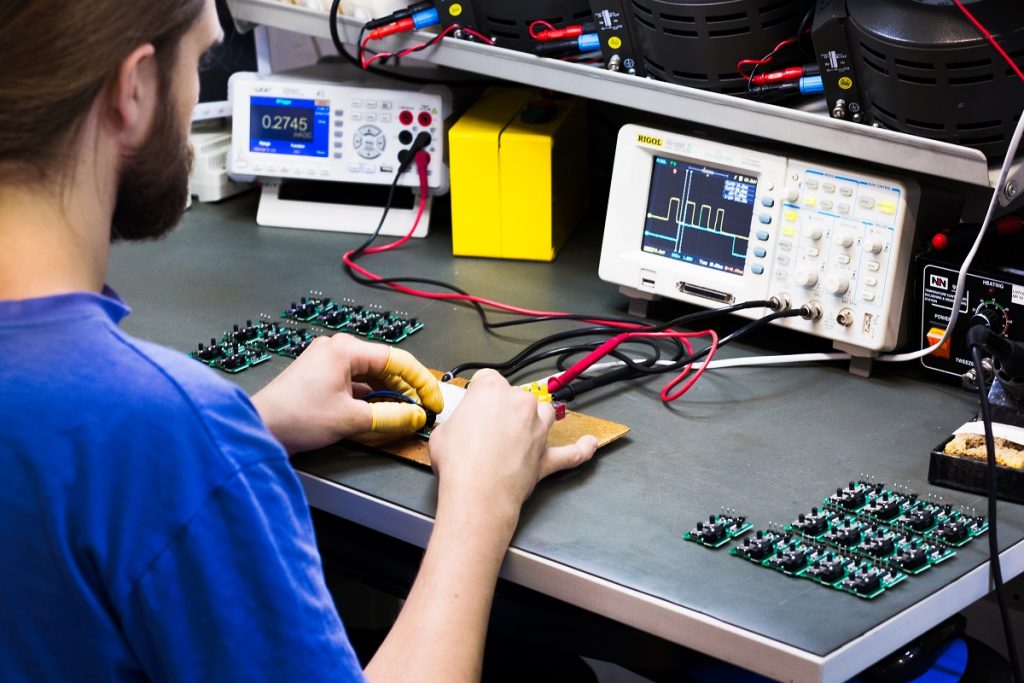 Testing guarantees reliability
As part of cooperation, we can carry out for you:
Electrical testing of printed circuits
AOI (Automated Optical Inspection)
Ion purity test (Ionograph)
In Circuit Test (ICT)
Functional tests
See the tests we offer. Quality control is an investment that guarantees reliability of your products.
Electrical testing of PCBs
Electrical testing is intended to verify that the PCBs are free from shorting and circuit path discontinuities. It is based on testing the path resistance between specific test points and leakage resistance between each circuit path and the paths in the vicinity. The high precision and efficiency of production are backed by the latest processing machines: A5 Neo Flying Probe from ATG and PROBOT 880-05 from Mania Technologie.
AOI (Automated Optical Inspection)
AOI enables verification of finished SMT quality by visual inspection of the components mounted on a PCB. The feed output by a digital camera sweeping the PCB under scrutiny is compared with the reference images of properly mounted electronic components. The AOI software package detects missing and incorrectly mounted components, as well as assembly and soldering defects.
Ionic purity testing (Ionograph)
Each process of feeding electronic components to the assembly areas incurs the risk of component contamination. Ionic purity control is of utmost importance here. During ionic purity control, or ionograph testing, the presence of electrolytes which favour electrolytic migration is determined. These impurities may result in a failure of the contaminated electronic device. The determination is performed by testing the concentration of ions released during immersion of the tested circuit in a special solution.
In-Circuit Test (ICT)
ICT can be performed following an SMT or THT operation. The objective is to determine the actual performance of the assembled components. ICT involves tapping the tested circuit by a measurement system using gold pins, installed on a dedicated ICT adapter. The ICT shows whether the mounted components meet their performance specifications and reveal any defective electronic parts. PRINTOR's strength is the capability of fabricating proprietary ICT adapters and ICT software elements to reduce the ICT implementation time at a very competitive price.
Functional testing
Functional testing is used to test the overall performance of the finished product or assembly. The functional test tools simulate the actual operating conditions to verify if the performance complies with the project specifications. The functional testing at PRINTOR is based on test systems or tools dedicated to specific products, either supplied by the customer or manufactured in house.


We recommend the full range of services, explore our comprehensive offer
Are you interested in the testing offer? Choose your preferred contact type and learn more
Are you looking for an EMS Partner? We invite you to contact us directly.
We are happy to talk about your needs. Our experts are at your disposal.
Do you prefer to contact by the form? Describe what you need and we will call you back or write to you within 2 days.
Contact our Customer Service office
Phone 1: +48 42 652 79 44
Phone 2: +48 42 942 03 06
GSM: +48 606 273 189
We work from 8:00 AM to 4:00 PM from Monday to Friday.